Hardware upgrade in time for WPX CW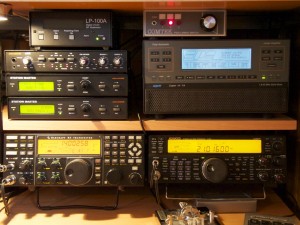 Right in time for WPX CW SE0X got a small hardware upgrade when the second microHAM Station Master was installed. This little magic box is a band decoder on steroids that, in addition to decoding the band and selecting the proper antenna, serves as a control center for all vital equipment.
The purpose of the Station Master is to automate band and frequency changes so the operator can focus on running the contest instead of wasting time on button pushing and know turning.
All possible antenna and filter combinations are preprogrammed in Station Master and several antennas per bands can be defined and selected using the panel keys or a keypad.
The operator selects the band or changes the frequency and can then forget about the rest. The Station Master makes sure the proper antenna and band pass filters are picked, tells the amp to retune and waits for all equipment changes to be done before signaling OK to transmit to the K3. Its all done in a fraction of a second and together with an automatic amplifier it's really a convenient setup that provides for instant band changes.
One feature I really like is the ability to define virtual rotators. Station Master can control normal rotators, but virtual rotators are predefined sets of antennas in fixed directions. I use virtual rotators for my directional receiving antennas to simplify and automate the choice of the best antenna for any direction. Another use would be to control the direction of a 4 square array. When taking automation all the way you could control the virtual rotator (or normal rotator) by entering a prefix into N1NN or other logger able to control a rotator interface.
At SE0X each radio in the SO2R setup has its own Station Master controlling 5B4AGN band pass filters and two antenna switches, the main SixPack 2×6 switch and a secondary switch in the tower. This block diagram is from the u2R manual, but describes the general setup at SE0X quite well.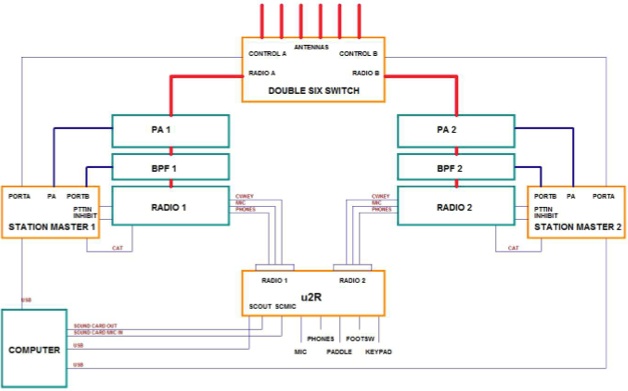 In addition to contesting automations comes in handy when controlling a station via remote. The Station Master works well stand alone, it does not need a computer running. This makes it the perfect "helping hand" in a remote setup which is exactly how I used my first unit for several years.
Link to microHAM website with more information on the Station Master.