SMØMDG in JX5O Jan Mayen Expedition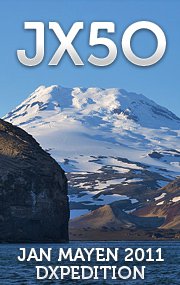 The JX5O expedition to Jan Mayen is coming closer. In one week the international team will gather in Reykjavik, Iceland, to begin the trip to Jan Mayen located in the Norwegian Polar region. The team will travel on the Aurora sail yacht from Isafjordur to Jan Mayen in unpredictable waters in the North Atlantic.
The camp will be located at Gammelmetten, the old meteo station located 8 km away from the Loran C station at Jan Mayen. Preparations of the expedition has been ongoing for a long time and the team plans to activate the 40 to 6 meter bands using 3 stations.
JX5O is scheduled to be on the air July 6-14. More information and updates can be found at the JX5O website at www.janmayen2011.org.